Making the most out of life at BIMM Institute means working hard and playing hard. There's no one way to experience BIMM and you can tailor your journey to suit your own needs and interests. There's always something going on and it's worth jumping into everything you can to find what truly inspires you.
We offer extracurricular activities that you won't find anywhere else. Taking part in these complements your main studies; providing you with new skills and experiences and contributing towards your CV when you graduate.
You'll have the chance to directly connect with industry icons, put your in-class learnings to the test or boost your well-being. There's nothing better than working towards your dream career and having fun along the way. Together, we can make your time here an unforgettable one.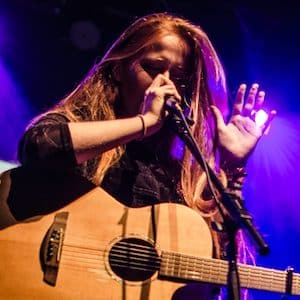 We offer multiple opportunities for you to expand your knowledge of the industry and broaden your working experiences. That way, Europe's top music employers know that you're not only work-ready when you graduate, but you're industry-ready too.
We offer constant support through our Careers Hubs and Careers Tutorials so you can perfect your CV, develop those interview techniques and land that job you've always wanted.
We also have our Artist Development Tutorial Support for performers, writers and producers. These focused tutorials will support you in developmental feedback on your material, branding, online profile, and all other aspects relating to being a professional in the creative industries. Discover more of our CV-enriching opportunities below.
Careers support
Become empowered towards your career goals by attending a career guidance tutorial. These support you in all aspects of your career aspirations, including advice, potential career paths, CV writing support, interview techniques and general career-related topics.
Careers Hubs
Head to The Hub for weekly visits by industry professionals, CV writing workshops and interview technique tips. Our career-focused workshops are in place to support you in your career aspirations.
Music conferences
Work at international professional music business conferences, such as Brighton Music Conference (BMC) and The Great Escape. You'll have the chance to network and learn about the latest industry issues from expert practitioners in all areas of the music business.
Commercial Performance Coordinators
Earn money while studying through our paid commercial performance opportunities. Thanks to our connections with the Alive Network, this is available to all performance students, so you can unleash your passion while building up a steady side-hustle.
Festival work experience
Experience Europe's best festivals for real through our festival work experience, performance slots and internships. You'll gain hands-on experience running and performing at festivals like Glastonbury, The Great Escape and 2000trees.
Session work opportunities
Experience working at a production house, record and even collaborate with other professionals. These opportunities are in place to give you hands-on experience outside the BIMM team. You'll work with high-level professionals and rapidly gain real-world learning experiences.
Connection is everything here at BIMM Institute. And when you enrol here, you instantly become part of Europe's most creative community. So, what better way to meet some of our exclusive connections than through our networking opportunities?
We offer exclusive networking events, BIMM Connect (our social networking platform) and more to give you the greatest chance of building up your musical network and establishing invaluable contacts before you've even graduated. Of course, we also hold exclusive masterclasses so you can be in the same room as some of the music industry's most prolific names.
Networking events
Network with students from all courses and disciplines at our exclusive events throughout the year. Whether you're a bass player looking for a vocalist or an Event Management student looking for a band to headline a gig, our student-led community helps build the foundations for the music industry of tomorrow.
BIMM Connect
Connect to the industry and like-minded people with our free social network that's home to Europe's largest private community of music students and graduates. You'll link directly to fellow musicians, industry creatives and businesses via the app or your desktop.
Press conferences
Meet your music industry heroes (and hopefully interview them) via our exclusive press conferences. In the past, we've held press conferences with bands such as Creeper, Maverick Sabre, Nothing But Thieves, Catfish and the Bottlemen and Mumford & Sons.
We've also held press conferences with industry experts, such as U2's Marketing Manager, Post Malone's publicist, Head of Press at Polydor Records and top writers from the likes of Kerrang.
We know that succeeding in today's industry requires having multiple skills. That's why you give you a range of opportunities to broaden your skills and have access to multifaceted learning.
With our extracurricular activities, you'll be able to easily add another string to your bow. And as always, our lecturers and course leaders are on hand to help and give you one-to-one advice whenever you need it.
BIMM Extra
Sign up for BIMM Extra and experience extracurricular activities and classes that expand your horizons and build your skillset. Notable topics include Pro Tools/Logic for Beginners, Social Media Marketing, Branding, Bookkeeping, Essential Digital Visual Software, Working the Press, International Music and Business.
Course leader support
Enjoy unparalleled access to support and guidance from your course leader. As you progress through your course, your course leaders are available for academic and professional guidance to help you refine your focus and achieve your career goals. We also have Head of Department tutorials available. You will be able to access career support and advice from Heads of any department, whether you're enrolled in their course or not.
Lecturer tutorials
Expand your skill set and knowledge by booking onto a one-to-one tutorial with any lecturer within the BIMM Institute faculty. Our online tutorial booking system means you can connect for practical and academic study, even in areas outside your course. Are you an Event Management student looking to learn more about Guitar? You can book sessions with our esteemed Guitar lecturers to learn more.
Joining our creative community gives you plenty of opportunities to band together, collaborate and expand your passion outside of the classroom.
Our students come together to run their own record labels, magazines, gigs and events and simultaneously experience real-world scenarios first-hand.
Our extracurricular activities benefit all disciplines. For example, our Event Management and Music Business students are given the opportunity to work with venues and artists as they would in the industry while performance-based students get to show an audience what they're made of. In fact, did you know that the likes of Tom Odell and James Bay were scouted at one of our BIMM gigs? You never know, you could be next.
BIMM album
Collaborate with others and work in a high-end recording studio alongside high-level producers for the BIMM album. Every year, our album showcases the best songs from each of our colleges across Europe – and you can be a part of it. Students from every discipline can get involved. If you're a Music Business student, you can form part of the selection, working and collaborating with industry professionals on a live panel.
BIMM gigs
Perform onstage or help to set up and run our end-of-term gigs, with multiple performances from each college. For our gigs, students get to play in well-respected and much-loved venues to a crowd of their peers, staff and industry professionals. The gigs also provide shadowing and work experience for non-performance students. You can help prepare and execute the gigs with guidance from a professional crew.
Exclusive performances
Perform with industry professionals and expand your CV. Past students have had the chance to perform with Amy Winehouse's and Jamiroquai's bands, showing that nothing quite beats real-world experiences.
Student magazine and website
Run magazines and websites that promote local and national music. This is a perfect opportunity for Music Marketing, Media and Communication students to put into practice what they're learning in the classroom. You'll interview high-level artists, review gigs and events, write copy and create a student-run magazine online and in print that you can be proud of.
Student Media Team
Cover some of the world's biggest festivals and industry events as part of our Student Media Team. This opportunity is in place for you to see what working in a professional media team is really like. It also allows you to apply in-class learnings to real-world contexts.
Student record label
Apply what you've learnt on your Music Business courses in a real-world context. At BIMM Institute, students form label teams and are allocated budget to promote artists they want to release. It's all part of our commitment to provide students with learning-by-doing, so they'll walk straight into the industry knowing exactly what to do.
With everything going on, we're also always here to offer a helping hand should you want it.
Your well-being and welfare is our priority, so if you ever need someone to talk to or helpful advice, you can always head to our Student Support Team.
Student Association
Having experiences outside the classroom is great at helping your growth as a person and your overall well-being. With our Student Associations, you'll find everything from friendly quiz nights to a five-a-side football league and countless one-off clubs and societies.
Student mentors
Gain a supportive relationship with fellow students with our peer-to-peer mentor scheme. Our BA2 trained mentors are here to help new students; they've been through what you're going through and can help with advice, tips and general support so you get the best out of your time here.
Week Of Well-being (WOW)
Join our Student Services team as they host and coordinate a variety of activities, workshops and awareness campaigns to help boost your well-being.
Any Questions?
For any questions about the extracurricular activities we run at BIMM or if you'd like more information on how to apply, please contact our Admissions Team on 0344 2 646 666 or email [email protected].